Open Auditions for Psycho Night at the Paradise Lounge - Linkville Playhouse
Open Auditions for Psycho Night at the Paradise Lounge - Linkville Playhouse
Monday, September 12, 2022 (6:30 PM - 8:00 PM) (PDT)
Description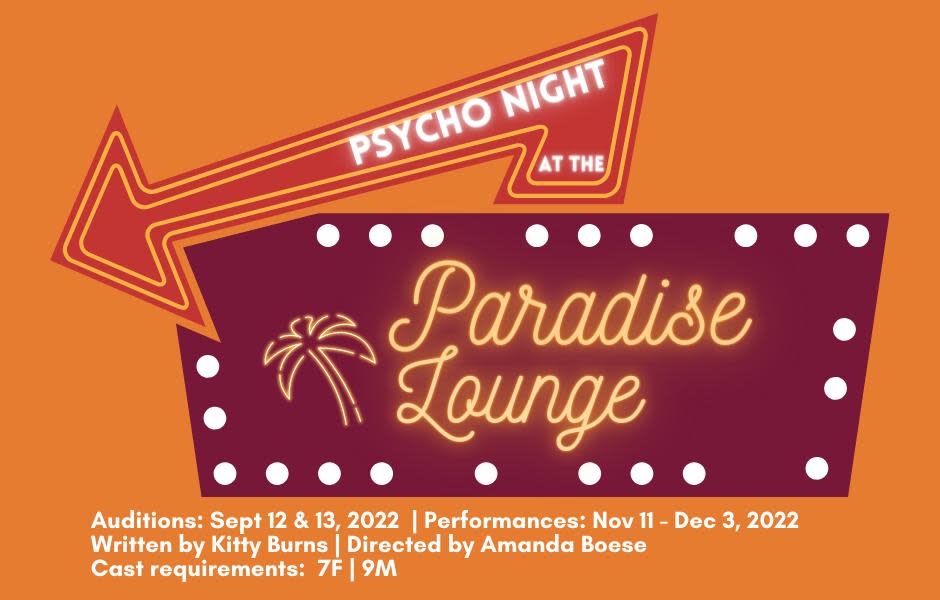 Auditions for the Linkville Playhouse's production of "Psycho Night at the Paradise Lounge" will be held Monday, September 12th & Tuesday, September 13th at 6:30PM.
Written by Kitty Burns and directed by Amanda Bose.
Cast Requirements:
16 roles total; 7 men, 7 women, with 4 roles that could be either gender. There are no roles for children but mature teens that appear older are encouraged to audition.
Performances:
Friday & Saturday nights, November 11th - December 3rd with one Sunday matinee on November 27th.
Audition requirements:
- Auditions will consist of cold readings from the script. No preparation is needed, and familiarity with the script is not required.
- Those wishing to audition for the female lead role should come prepared with one chorus of a song of their choice.
- Please wear comfortable clothing and plan to arrive at the theater at least fifteen minutes prior to the beginning of auditions to complete an audition form.
Synopsis:
Four people have come to the Paradise Lounge on the same night for the same reason – to kill the singer. The four do not know each other, and therefore, do not know that the others are there for the same purpose. As the singer, Cindy, is on stage for her first set, the villains discuss with their accomplices the reason and method they've devised for Cindy's death. One by one, they each set a trap in Cindy's dressing room.
Each of the potential murderers is convinced that Cindy has been successfully
killed and believes that he/she is personally responsible. With the police temporarily out of sight, each of the murderers returns to Cindy's dressing room to remove the evidence he/she left
behind. After entering the dressing room, each of them is killed by a trap set by
one of the other villains. The police return to the lounge to find four dead bodies, a variety of mysterious murder weapons, and a room full of "silent partners" who are no help in unraveling
the mystery.
—--
Rehearsals will begin on Monday, Sept 19, and will be nightly Monday through Thursday of each week.
All are encouraged to audition, regardless of prior theatrical experience. For more information about the auditions for Psycho Night at the Paradise Lounge call or text Amanda Boese at 541-891-9530.
Monday, September 12, 2022 (6:30 PM - 8:00 PM) (PDT)